Annual Banquet
Made in the Image of God
Heart of Hope's Annual Celebration
Thursday, February 9, 2023
Heart of Hope Campus
10420 Heart of Hope Way
Keithville, LA 71047
Seating begins at 6:00 pm
Dinner and Program 6:30-8:30 pm
Dinner is complimentary. An opportunity to make a financial gift will be extended.
Adults only as seating is limited.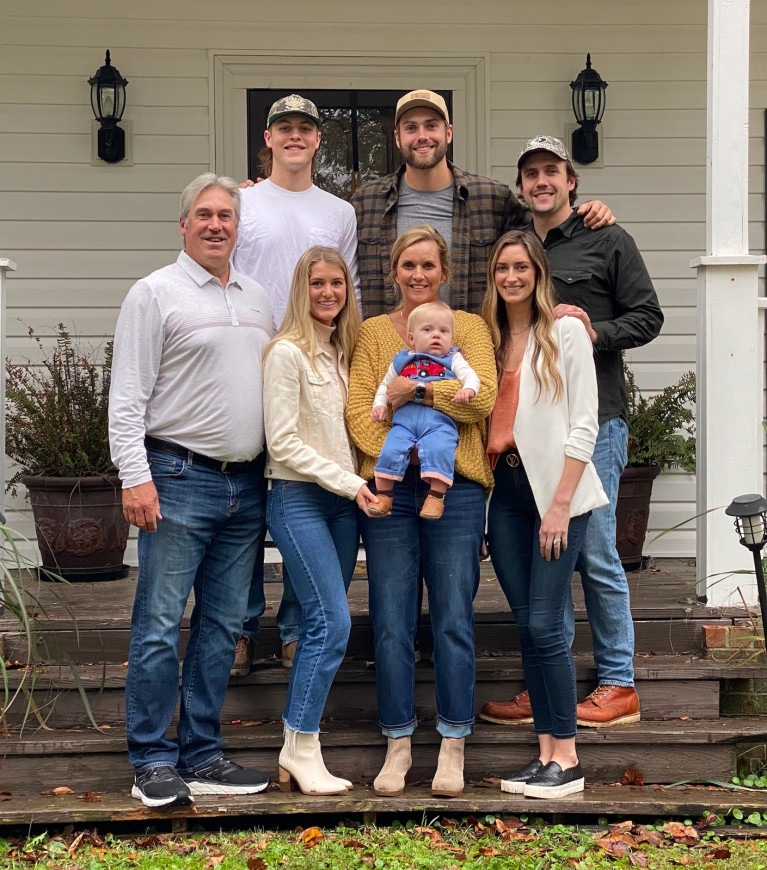 Jeannie Pederson, retired Registered Nurse and wife to Doug Pederson, Super Bowl winning coach of the Philidelphia Eagles and current head coach of the Jacksonville Jaguars, resides in Florida. Jeannie has three grown sons - Drew is married to AnnMarie, Josh is married to Ryan, and Brodie Joel. Jeannie is a master storyteller. She is passionate about sharing with us God's faithfulness in her own family's story of unplanned pregnancy. We are so excited to bring back to Shreveport one of our own heros!
"I love spending time with my family and furbabies, Tex and Lucy, as well as traveling, playing golf and volunteering at the Children's Hospital and local charities. More than anything, I love Jesus and live my life for HIM" - Jeannie
From Jodi -
On the last day of creation, God said, "Let us make man in our own image, in our likeness". God formed man from the dust and breathed in his nostrils and Adam took his first breath. As we celebrate a new era in America, where children and women are protected from abortion on a national level, we are even more aware of the growing needs of our ministry to both pregnant and new moms! Our annual fundraising dinner, Made in the Image of God, will be a celebration of Gods's faithfulness to our families this year. Young women discovered their worth. Unborn children were given life. Koinania Cottage, our 2nd aftercare home for two moms and babies, will have its Grand Opening in February. God is still making all things new.
We are believing for a presence-filled evening where God will get all the glory for what He has done, is doing, and will do in the coming months.
Our seating is limited to 350 so make your plans to attend today.
There are 3 ways you can participate in this evening with Heart of Hope:
1) Attend the Banquet
Registration is closed. Only Table Hosts can continue to add persons to their table. Please complete your table guest list by February 3rd. Please call Rochelle at 318-925-4663 for questions.
2) Become a Banquet Sponsor!
When you invest as a sponsor for our fundraising banquet, you are assuring that dollars already donated throughout the year are not absorbed by fundraising costs. This allows us to continue meeting budget expectations without interruption. Will you prayerfully accept this invitation to help 100% of the evenings fundraising efforts to be sown right into the ministry's mission? Thank you so much!
If you would like to help in this way, please mail sponsor donations to: Heart of Hope, 10420 Heart of Hope Way, Keithville, LA 71047. Sponsor levels are:
Champion Sponsor $5,000
Platinum Sponsor $2,500
Gold Sponsor $1000
Silver Sponsor $500
Bronze Sponsor $350
3) Host a Table
Register as a Table Host and fill a table of 8 with interested guests. When you register for the banquet you will have an option to be a Table Host. Being a Table Host has no financial obligation. It is an opportunity for you to invite guests who may not know about our ministry and would consider partnering with us in prayer, service and giving.
If you are unable to attend our Annual Banquet and would like to make a gift, or you would like to help underwrite the costs of the Banquet, CLICK HERE.