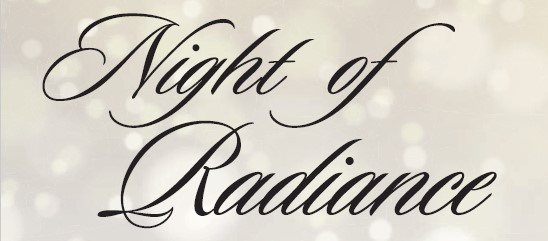 Annual Banquet
A Night of Radiance
Thursday, February 13, 2020
Summer Grove Baptist Church
8924 Jewella Avenue
Shreveport, LA 71118
Seating begins at 6:00 pm
Dinner and Program 6:30-8:30 pm
Banquet Hall
Dinner is complimentary. An opportunity to make a financial gift will be extended.
REGISTRATION IS NOW CLOSED. IF YOU ARE A TABLE HOST AND YOU NEED TO ADD OR REPLACE A GUEST, PLEASE EMAIL SARA AT saras@heartofhopeministry.com or call 318-773-7568

"Those who look to Him are radiant; their faces are never covered with shame." Psalm 34:5
We look forward to sharing with you A Night of Radiance. Join us as we celebrate the goodness of God and His handiwork in the lives of our young women. We have a special evening planned, including a couple of surprises, a big announcement and stories of lives redeemed through the ministry of Heart of Hope - a ministry that is only made possible with the support of our community.
There are 3 ways you can participate in this evening with Heart of Hope:
1) Attend the Banquet
2) Become a Banquet Sponsor!
When you invest as a sponsor for our fundraising banquet, you are assuring that dollars already donated throughout the year are not absorbed by fundraising costs. This allows us to continue meeting budget expectations without interruption. Will you prayerfully accept this invitation to help 100% of the evenings fundraising efforts to be sown right into the ministry's mission? Thank you so much!
If you would like to help in this way, please mail sponsor donations to: Heart of Hope, 10420 Heart of Hope Way, Keithville, LA 71047. Sponsor levels are:
Champion Sponsor $5,000
Platinum Sponsor $2,500
Gold Sponsor $1000
Silver Sponsor $500
Bronze Sponsor $350
3) Host a Table
Register as a Table Host and fill a table of 8 with interested guests. When you register for the banquet you will have an option to be a Table Host. Being a Table Host has no financial obligation. It is an opportunity for you to invite guests who may not know about our ministry and would consider partnering with us in prayer, service and giving.
If you are unable to attend our Annual Banquet and would like to make a gift, or you would like to help underwrite the costs of the Banquet, please click here.
Our special guest speaker is Chelsea Cameron. Chelsea and her husband, Kirk Cameron, played love interests Mike and Kate Seaver in the 1980's hit sitcom "Growing Pains". They've been married for over 25 years and have six children. Together, they continue to produce faith-based entertainment for the entire family. Chelsea's unique faith-based marriage and family class, 24/7 Family, continues to teach, inspire, and encourage women of many backgrounds to discover the secret of a healthy, happy, brave and fruitful home. Chelsea is a mom of six and has lived out the 'spirit of adoption' and owes her own life and family to the work of the pro-life movement.