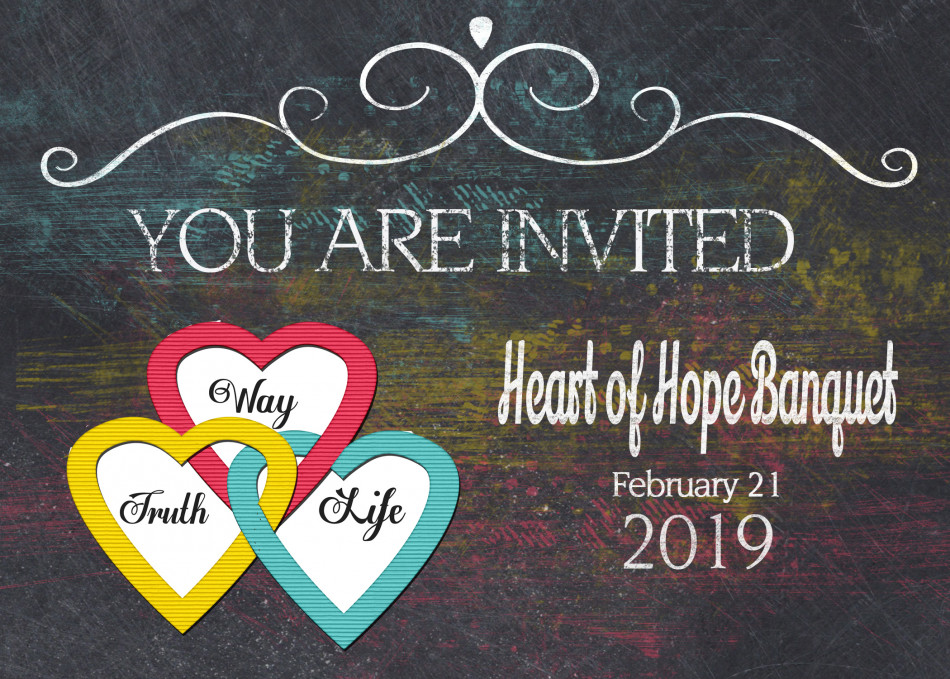 Annual Banquet
Way * Truth * Life
Thursday, February 21, 2019
Word of God Ministries Campus Gym
6645 Bert Kouns Industrial Loop
Shreveport, LA 71129
Seating begins at 6:00 pm
Dinner and Program 6:30-8:30 pm
Dinner is complimentary. An opportunity to make a financial gift will be extended.

Let's celebrate God's faithfulness together at our Annual Fundraising Banquet, being held in the High School Gym on the campus of Word of God Ministries. Can you believe we are entering our ninth year of ministering to young women facing unplanned pregnancies? We have welcomed over 70 young women into our home since 2010!
Our home is a sanctuary where the presence of God is made manifest through the love and intentional care of our houseparents , staff, volunteers and faithful supporters! We have a very special night planned, including testimonies from some of our young moms!
We are a Home where unborn children are given life
and their moms a second chance!
We are thrilled to have back, Mike G. Williams, a nationally known speaker and writer who has a passion for life. He is heard daily on the SiriusXM's Laugh USA. He has recorded 17 comedy projects and written 8 books. Mike will have you rolling on the floor with laughter, while simultaneously building your reverence for the work of local life-saving organizations. His own personal adoption story and the rescue and subsequent adoption of his son will move you to tears of great joy. He came to popularity as a pro-life speaker after Focus on the Family brought his personal story to a national spotlight.
There are three ways you can participate in this evening with Heart of Hope:
Attend the Banquet
Become a Banquet Sponsor!
When you invest as a sponsor for our fundraising banquet, your donations are multiplied more than any other gifts we recieve! Your gift is not only matched at the banquet, but can be mulitplied as much as 10 times on the night of the banquet. Our annual banquet is our largest fundraising effort.
If you would like to help in this way, please mail sponsor donations to: Heart of Hope, 10420 Heart of Hope Way, Keithville, LA 71047. Sponsor levels are:
Champion Sponsor $5,000
Platinum Sponsor $2,500
Gold Sponsor $1000
Silver Sponsor $500
Bronze Sponsor $350
Host a Table
Register as a Table Host and fill a table of 10 with interested guests. When you register for the banquet you will have an option to be a Table Host. Being a Table Host has no financial obligation. It is an opportunity for you to invite guests who may not know about our ministry and would consider partnering with us in prayer, service and giving.
If you are unable to attend our Annual Banquet and would like to make a gift, or you would like to help underwrite the costs of the Banquet, please click here.
Our Guest Speaker,
Mike G. Williams
Mike G. Williams and his family serve in the Dominican Republic directing a mission touching the lives of trafficked girls, a dump ministry, and an orphanage ministry. In his professional life he has recorded 17 comedy projects, and written 8 books. To help marriages he wrote Men Moved to Mars When Women Started Killing the Ones on Venus. His four volume Laugh-and-learn trilogy Turkey Soup for the Sarcastic Soul #1, #2, #3, #4 are humorous stories of spiritual encouragement. To help students (8 - 18) teaching honesty, integrity, character, and a hard work ethic, he wrote Don't Stand under a Flock of Angry Birds. Believing that today's teens (13-19) need help in the area of mating he wrote Love Is NOT A Three Letter Word. Awaken the Mighty Men was written to encourage men in the sanctity of life movement and The Parable of the Muddy Jeep is the story of Mike's own call to the mission field. He is heard daily on the SiriusXM's Laugh USA. His personal adoption story and the rescue and subsequent adoption of his son will move you to joy. Find out more about their daily ministry at www.CupsOfColdWater.com or more about Mike's humorous speaking at www.MikeWilliamsComedy.com