Subscribe:
HOH News
10-9-2012 4:33:29 PM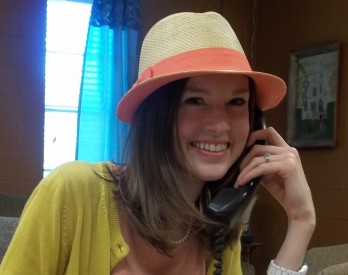 Galatians 3:8-9
8 The Scripture, foreseeing that God would justify the Gentiles by faith, preached the gospel beforehand to Abraham, saying, "All the nations will be blessed in you." 9 So then those who are of faith are blessed with Abraham, the believer.
"Leave everything you have ever known for a place I have chosen." How's that for a first greeting? I don't know about yours, but my ever so eloquent reply would be, "Excuse me!"
This interaction really happened, but thankfully the original response proved much wiser than my hasty reaction. In Genesis 12, the Lord appears to Abram (later called Abraham) and gives him that command along with a promise: to "make [him] into a great nation and bless [him]" (v.2). Maybe you're thinking, well, with a blessing like that I would go anywhere.
One problem – Abram and his wife had no children. A nation is quite a far stretch.
A surprising first hello, a strong command, a strange promise…
"So Abram left". He left. He didn't question God's ideas or wait to check his GPS. He left. He didn't wait until he had an heir for this great nation. He simply left in obedience and faith. Later on, God reminds Abram of the promise. And once again, still childless, "Abram believed the Lord, and he credited it to him as righteousness" (Gen. 15:6 NIV).
When Abraham chose to believe the promises of God, he not only welcomed blessings into his own life, but into my life. The promises, which have become our blessings as Christians, are intertwined with the promises God made Abraham. As Galatians 3:8 says, "The Scripture, foreseeing that God would justify the Gentiles by faith, preached the gospel beforehand to Abraham, saying, "All the nations will be blessed in you." (NASB). When Abraham believed God, he believed promises about you! He believed promises about me!
Abraham chose to believe the promises which gave me life. He chose to believe the promises which brought his whole family together as God's children. He chose to believe a covenant which was fulfilled with Jesus' death and resurrection. "He [Christ] redeemed us in order that the blessing given to Abraham might come to the Gentiles through Christ Jesus, so that by faith we might receive the promise of the Spirit" (Gal. 3:14 NIV). I am blessed because he believed.
These beautiful verses remind me of Heart of Hope. First of all, our residents leave all they have ever known, for a place we believe is God's best for them. She has no experience with Heart of Hope though. She comes by faith. Through her circumstances, she is asked a question similar to Abraham's, "Will you believe?"
She can choose to listen to the world's lies - guilt, shame and a false escape through destruction, or believe our God's promises – for future, hope and abundant life both now and eternally. Her answer might not affect a whole nation, but it does affect her children, and their children, and the generations to come! By choosing to believe that God has a plan and purpose for her life and even for her unplanned pregnancy, she believes promises of life and a future on behalf of her baby! Her precious child is given a chance to receive the blessings of God one day because of the choices she makes now. Can we say Hallelujah?
What a powerful and purpose-filled decision our girls are making as they walk though our doors! Will you join us in praying this week? Pray that our residents will continue to claim God's promises for their lives and their babies. Pray for our house parents and staff that they will not grow tired of sharing God's wonderful promises. Pray for girls in the community facing an unplanned pregnancy who have not yet chosen to believe. Most of all thank God for His promises!