Subscribe:
HOH News
10-30-2012 11:35:36 AM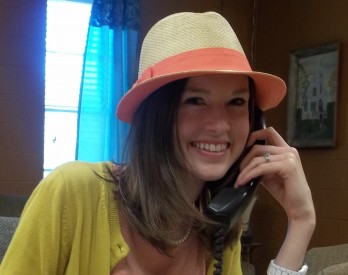 Genesis 2:3
So God blessed the seventh day and made it holy, because on it God rested from all his work that he had done in creation.
I don't know what your home is like this week, but it has been a little very busy around here. We are hosting the National Christian Housing Conference this weekend. We are painting rooms, decorating tables, cooking meals, filling binders, preparing lectures, cleaning rooms, and playing host to 70 wonderful people from across the nation…and that's just in the office. Our sweet houseful of girls has their own schedules and activities over in the home. Whew, I'm tired just from typing all that.
And yet, in the midst of all the craziness (or probably because of it), the Holy Spirit brought a verse to my attention today about rest. When I'm busy the last thing I want to do is rest, or even think about it. I guess it's my Type-A personality, but I go to bed literally anticipating the next morning, trying to figure out how and when everything will get done and wondering why I'm even "wasting time" in this bed sleeping. So as I'm sitting on my couch (begrudgingly I should confess – yes I tried to do 14 other things before allowing myself to sit down), I was reminded that God rested. I guarantee you He had and has a lot more to do than I ever will, but He rested.
Not only that, but He blessed the day on which He rested. He "made it holy, because on it God rested." We know that God was pleased with His days of work because scripture tells us He "saw that it was good." However, scripture only talks of one day which God blessed. He didn't make holy His work days, but His day of rest!
I think this applies to us as people too. I can be made holier in my resting than I can in my doing. Let me just tell you that's a hard phrase for this type-A to well, type.
As Christians we are called to be Holy:
"But as he who called you is holy, you also be holy in all your conduct, since it is written, 'You shall be holy, for I am holy'." 1 Peter 1:15-16
On first glance, it may seem like this command requires our action, our doing to become Holy, but Paul reminds us in Ephesians 5 that this is far from the truth.
"…Christ loved the church and gave himself up for her to make her holy, cleansing her by the washing with water through the word." (v. 25-26, emphasis mine)
Jesus died so that we could be holy and blameless before our Creator! Salvation and the sanctification process don't come from our strivings, but when we finally cease doing and realize it's been done. Not by works, but by grace and resting in that grace!
So I guess it shouldn't come as a surprise that this pattern continues throughout our journey of faith. Does God want us to work sometimes? Absolutely, remembering that we work to bring glory to Him (Matthew 5:16). But He also wants us to remember that it's ok, better yet it's necessary to rest, in a hectic world that tells us otherwise. We need time to rest, time to pray, time to "Be still and know that He is God." It's in these times that we gain strength and purpose. As we grow in our faith, it becomes easier to rest even as we are working. While we may not have enough hours in our day, His day never ends. We can rest in the truth that He will complete what He has started, and His plans will be accomplished. We can rest as we do, knowing that it's not by our own strength that we accomplish anything anyway.
So tonight, I'm going to take some time to rest. I hope you will too no matter what your schedule holds.
We can rest because "It is finished!" Praise His Name