Subscribe:
HOH News
6-20-2016 3:05:42 PM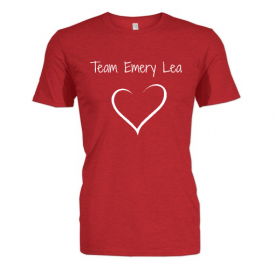 I am in awe of the Brattin Family!
Recently, we received a call from bonfirefunds.com because the Brattin family, whom I have not had the pleasure of meeting, is having a fundraiser for Heart of Hope by selling T-Shirts in honor of their unborn baby girl, Emery Lea.
Below is their story:
We are the Brattin family, and we will soon welcome our precious and marvelous blessing, our daughter, Emery Lea. Emery has been diagnosed with Trisomy 18, Holoprosencephaly, and Shone's Complex. We believe that God makes no mistakes and that He has a plan that is for her good. We covet your prayers for her and for our family during this time, and we are honored and humbled by others showing their support for her! Thank you, and God's richest blessings to you all! All proceeds from this T-shirt sale will benefit Heart of Hope Ministries!
I was undone by their faith and generosity to give at a time when their need is so great! It took me about 3 minutes to order a Team Emery Lea T-shirt!
Behold, I am the LORD, the God of all flesh: is there anything too hard for me? – Jeremiah 32:27 KJV
At Heart of Hope, our young women live in the safety of a godly home. As we exemplify a godly lifestyle and create an intentional living environment, their hearts begin to soften towards a loving heavenly Father who has good plans for them. While Emery Lea's future is uncertain, God has ordained great plans for her, too! In this thing we also know, her parents can't wait to hold her and tell her how much she is loved.
It is difficult for me to compare the issues of life that are happening to the Brattin family with our young women. However, the unknown is something we all face. Nevertheless, as believers, we know the Lord (1) perfects that which concerns us and this is a promise we can hold onto and believe. I hope by sharing the bravery and expectation the Brattin's have for God to shelter them with His grace and peace, is an encouragement to you. As they await their treasure from heaven, Emery Lea is already leaving a legacy. Before she has taken a breath, she is impacting the lives of our young moms and her unborn friends!
Thank you for allowing God to leave a legacy through your gift this month! Together with you, the Brattin Family has reminded us of the beauty of God's faithfulness as He provides for our every need through His riches in glory!
Humbly,
Jodi Burns, Executive Director
(1) Psalm 138:8