Subscribe:
HOH News
6-24-2015 12:36:38 PM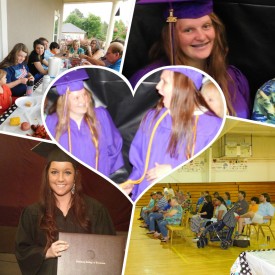 This year, three of our past residents walked the stage to receive their High School diploma. We also had a 2012 resident graduate from Centenary College in May, earning a degree in just 2 ½ years! The national statistic tells us that this type of success is not the norm! But, God! But, Heart of Hope – A Sanctuary for Women!
Over 60 % of teen moms complete their high school and receive diplomas

By age 30, only 1.5% of women who had pregnancies as a teenager have a college degree.

80% of unmarried teen moms end up on welfare
In today's economy, graduating from high school and obtaining a postsecondary degree can mean the difference between a lifetime of poverty and a secure future.
This month, two of our expecting moms graduated high school! Both of these young mommas have overcome huge obstacles in their lives to achieve this milestone! We will be honoring them with a Graduation Ceremony and Crawfish Boil this month!! Their babies are due in July and September. What a gift to their children!
We are honored that God allows us to witness such milestones in these young women's lives. He remains faithful in every way and every day! Their success is our victory, too!
The steadfast love of the Lord never ceases; his mercies never come to an end; they are new every morning; great is your faithfulness. "The Lord is my portion," says my soul, "therefore I will hope in him." Lamentations 3:22-24
Joyfully Serving,
Jodi Burns, Executive Director