Subscribe:
HOH News
2-24-2014 5:03:43 PM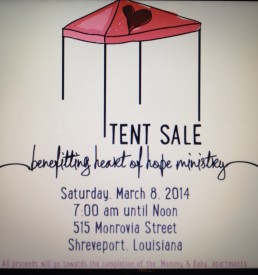 It was less than a year ago when I had the privilege of attending Heartbeat's Annual Meeting in Dallas, Texas. It was an inspiring and instructional weekend where both the learned and the teachable came together to glean from eachother and become even more passionate about saving the unborn while declaring purpose and life for their mom!
At one of the fine dinners that were provided for the attendees, I had the pleasure of sitting with a Pregnancy Resource Center from Arlington. These fine ladies were telling me how they started a Resale Store to help fund their ministry. It also has been a great way to share with those who shop in their store about the life-saving work they are providing pregnant women who are facing a crisis pregnancy. What was so interesting about finding myself at this table is that God had already been stirring a desire to add this to our ministry as a way to help fund our current needs and also assist funding our expansion of Mommy/Baby homes for both minors and adults. In addition to that, it would provide a place for our young ladies to learn life skills and increase their confidence in a public and social setting.
Proverbs 16:9 says, "A man's heart plans his way, But the Lord directs his steps." This promise brings us into rest. While we surrender our heart to the will of God, we rest in His promise to order our steps.
We see an even greater need to provide intentional residential care after the ladies give birth to their children. God has already confirmed His desire to move in this direction by quickly providing favor in the renovation of our Mommy/Baby efficiency apartment located right next to our Maternity Home. Our Hope Chest Resale Shoppe will be a way we can co-labor with God as He continues to provide a safe place for our girls to learn how to be the best moms they can be and continue accomplishing their life's goals.
We pray that if you are wondering where God is in your plans, remember that He is faithful to order your steps. One of my favorite scriptures is from Matthew 6, "But seek first the kingdom of God and His righteousness, and all these things shall be added to you." WOOHOO! God cares about you and you mean everything to Him! Afterall, He gave the gift of His only Son's life so that you would know His love and His fellowship!
Let's delight ourselves in the Lord and watch His desires be fulfilled our lives!
Please consider either donating items or if you are in town stop by the Hope Chest Resale Shoppe Preview on March 8th! All proceeds will benefit our new Mommy/Baby Efficiency. For more information, please contact jessicabtemple@gmail.com